Key Person Insurance
Cover for your company's most valuable individuals
Make sure your company can keep going if you unexpectedly lose a vital member of your team.
Speak to an expert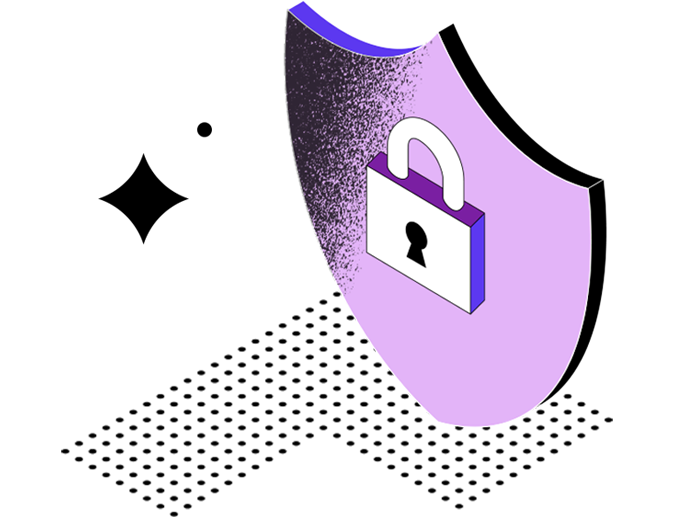 Why do you need Key Person Insurance?
Imagine what would happen if an important team member was no longer around.
Let's say someone who's been with you for years. A founder, department head or team leader. How would your company cope in the short term without their knowledge and expertise? According to Legal & General Research, 59% of SMEs would cease trading within 12 months of losing a key person.
Losing a key person is about more than decreased revenue.
Consider the cost of searching for, interviewing, hiring and onboarding a replacement for an important individual while your income continues to take a hit. Key Person Insurance helps cover lost earnings and the time and money spent on recruiting a new member of your team. 
Reduce worry within your workforce
A Key Person Insurance payout could keep your company afloat and reassure your staff that their jobs aren't at risk, helping you to avoid losing more employees at the worst possible time.
Support for your key people
Key Person Insurance isn't just used to cover the death of an important individual. If they are injured or suffering from a severe illness, you can cover their absence and support them and their family. 
It's a small cost now should the worst happen in the future
As a business expense, Key Person Insurance is a small price to pay for the peace of mind it provides. By covering essential employees, you can be safe in the knowledge that your business will be able to continue should you lose someone crucial to the company.
All statements concerning the tax treatment of products and their benefits are based on our understanding of current tax law and HM Revenue and Customs' practice. Levels and bases of tax relief are subject to change.
Speak to an expert

Get the facts
Download our guide to Key Person Insurance to discover how important it could be to your company's survival should the unexpected happen.
Get the guide

Is it time to cover your key people?
Fill out the form below to arrange a time to speak to a Key Person Insurance expert.

FAQs
Who is a key person?

A key person is an individual whose skill, knowledge, experience or leadership contributes to the continued financial success of the business. A key person may be anyone whose death could lead to a financial loss for the business. This might be a loss of profits if you lost your best salesperson, the cost of having to recruit or train a replacement or important personal or business contracts lost due to the key person not being there to maintain a contract.
Can partners take out Key Person cover on each other?

Yes, a partner could take out their own life policy and place it under trust for the other partners. In the event of a valid claim the policy proceeds would be payable to the trustees who would in turn pay the partners as beneficiaries of the trust. The partnership would usually pay the premiums.
What happens if the key person leaves or retires?

If a key person were to leave or retire before the end of the Key Person Protection policy term, the business could stop paying the premiums allowing the policy to lapse. Alternatively, the company may choose to continue paying the premiums until the end of the policy term and in the event of a claim, the business would receive a capital sum.
Who should be covered by Key Person Insurance?

The obvious choice of key person will normally be some or all of the partners or members in the business. However, it is worthwhile to consider the impact on the business of losing someone who may not have any financial stake in the business but nevertheless plays a fundamental role in its success.
Consider the individuals within your business and ask yourself:
Would the loss of that person negatively impact or slow down any ongoing projects?
How easy would it be to replace that person's expertise?
Is that individual essential to your business growth?
Would the loss of that person detriment any customer or supplier relationships?
Would the business miss their contribution?
Are there any financial matters, such as bank loans that are dependent upon that key person?
If I don't take out Key Person Insurance what are the consequences?

The consequences of losing a key person vary on the role of that individual and your business model. There are common factors to consider though, such as without the leadership of you or your key person your employees may decide it's time for them to move on. Perhaps your customers may choose to go elsewhere and/or your sales revenue could fall. Potentially it could create a lack of confidence from your lender, suppliers, customers, and your other employees. Bank loans and overdrafts could be called in and your suppliers may demand payment upfront.
How likely is it that a Key Person will need to Claim?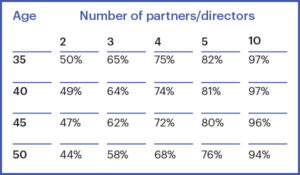 Likelihood of a Critical Illness – Likelihood of at least one partner or director getting a critical illness before age 65 Source CIBT02 Based on 1971-2003 population data and experience, published in SIAS paper Exploring the critical path, 2006. Males' standalone, extended cover, including own occupation total and permanent disability.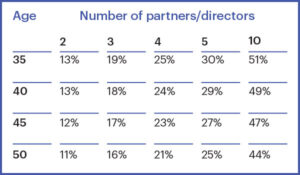 Likelihood of Death – Likelihood of at least one partner or director dying before age 65 Source www.actuaries.org.uk. Based on mortality data from TMNOO (temporary assured lives, male non-smokers, 1992-2002) at five plus years duration.
What's the tax position for Key Person Insurance?

Typically, tax relief is not allowed as in nearly all cases the key person being insured is a major shareholder of the business. Just because the policy may not qualify for tax relief does not mean that the company should not take key person insurance. It just means they will not get tax relief on the premiums.
View all FAQs